Dear GOSHers,
We are in the middle of a social experiment and reflections on how to promote our GOSH activities to the "real world" (ref. to Victor Papanek). At the moment we are at a large fair for agrictulture in rural Slovenia with our own booth for promoting our upcoming activities on UROŠ - Ubiquitous Rural Open Science Hardware, see more in this post.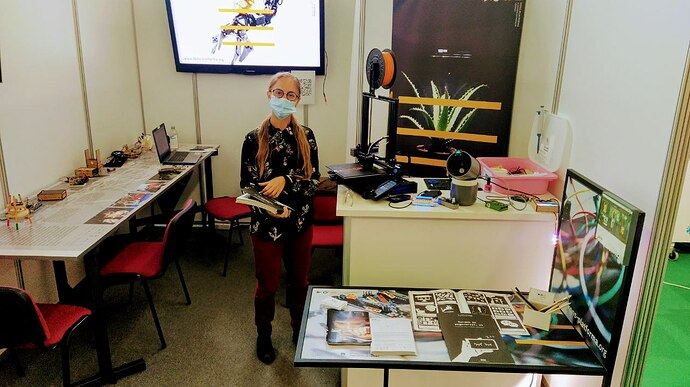 I brought some projects, prototypes, products from our network:
Hackteria DIY microscope
GaudiLabs PocketPCR and the openFibre spectrometer
JOGL's GMO detective LAMP analysis
CO2 soil respiration chamber
Youth educational maker-projcets
… and a 3D printer! Currently printing the openFlexure
Besides the language barrier, it's quite a challenge to reach out to the passing audience of a farmer's fair. Sofar, just having the 3D printer printing does a nice job to start with, and it's kinda symbolic of the open hardware process, that "stuff" can be reproduced, re-designed and manufactured locally on-site. A bunch of blinking LEDs and free pencils also attracting a crowd.
But… what I am really searching for now, is easy to read and distrubute small flyers, single page descriptions, overview of projects, brochures, more other projects etc.
What is GOSH on a single A4 page? Anyone has something?
Overview of 3-4 example GOSH projects in a single A4 page
our-sci? of GOAT flyers?
Single project flyers
While I have time here at the fair, I am designing stuff on the fly… stay tuned for first drafts.
@gbathree @Rachel @gaudi @francois @amchagas @Amanda @julianstirling @jarancio @nanocastro @jcm80
Who wants to join designing, thinking about that?