Hi everyone!
We applied to the low-cost tools for science challenge with an ambitious project: creating a 96-channel micropipette for lab robots, by repurposing Edwin's (@EdwinHwu) piezo actuators: Low-Cost, Open-Source XYZ Nanopositioner for High-Precision Analytical Applications
The E foundation has supported the project to 85% of the goal, and we're only missing about 1000 USD to get started. This is an all-or-nothing campaign, so we'd like to ask for advice on where to look for funders, and also for help spreading it around.
The campaign is on over here: Understanding yeast decision making processes in real time through open-source lab automation | Experiment
In principle we'd be testing the device as a pipetting and colony-arraying tool, for yeastly

experiments, but we expect it to be reusable for a wider range of applications.
Our current pipette (as funded by GOSH's CDP) is single channel, and quite bulky. By replacing the motor and leadscrew with piezo actuators we'll miniaturize the pipette, and build a multi-channel version for higher-throughput lab automation; both open and on the cheap.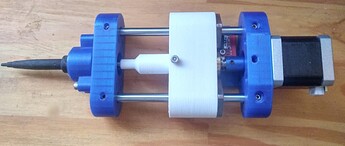 You are all welcome to join the fun in any way you'd like.

Best!
@gcorthey and yours truly