Hi everyone! Here to look for help with computer vision.
Context
A few folks and and I want to start tinkering with OpenCV, to estimate the pose of a camera relative to a reference pattern on a table (e.g. a QR code).
We'd like to use this to get the software of our pipetting robot to auto-calibrate relative to any work surface (e.g. our baseplate, the OT2 deck, or others). Something like this: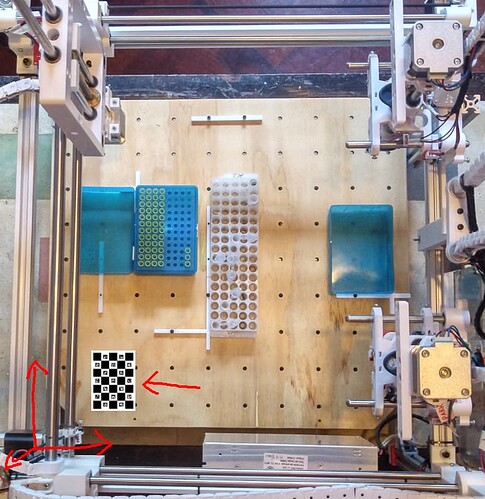 It'd be nice to know the position of the robot relative to an arbitrary table/base/deck/etc. The refeernce pattern can look like that QR-ish thing on the bottom-left.
The request
I was wondering if someone around here would be willing to lend a hand, and share their experience with cameras and OpenCV (especially when combined with actuators, maybe like the OFM @julianstirling?).
These are the documents I have so far found, but they're a bit cryptic to our rookie eyes, and we also would like to know what challenges lie ahead before diving in:
We need about 0.1-0.5 mm accuracy from the pose estimation.
Please leave a message if you're interested, know about a good book or tutorial, or tag your friends.

Cheers!
Nico