Dear Gathering for Open Science Hardware (GOSH),
The first GOSH election for the Community Council occured in May 2021 and produced the first group of seven members: @julianstirling, @laola, @biomakers_lab, @hpy, @hikinghack, @mariafrangos, and @lizbarry (in order of appearance in the linked announcement).
When this Community Council first met, there was not a predefined way for how we make decisions. So, in line with the GOSH Manifesto's values of transparency, and to get things started, we made our first provisional "meta" decision, and wish to share it publicly:
Until the GOSH community council has agreed upon a process for decision making, all decisions will be made by 100% agreement of the representatives.
Here's a screenshot of the seven of us giving a unanimous thumbs-up during our meeting on 12 August 2021: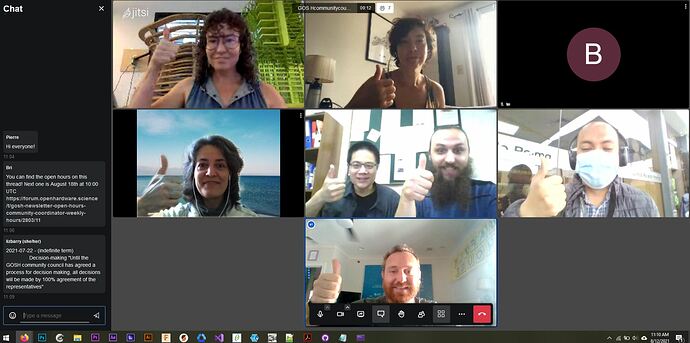 With this out of the way, we have resolved the "Gordian Knot" and can make actual decisions!
This is hopefully just the beginning, and we humbly ask for your input/feedback going forward. Thank you for your support as we work together to take GOSH to new heights!
Your GOSH Community council