Hola todos (English below)
Por si alguien quiere acompañarnos… Las próximas fechas confirmadas de talleres flone en Melipilla, Chile, son:
Domingo 11 de marzo / Melipilla
Domingo 25 de marzo / Melipilla
Domingo 8 de abril / Melipilla
Esas son por ahora (@keymer), iremos agregando nuevos talleres conforme los organicemos. La/el que quiera ir que avise por aquí.
We've got new dates for our flone workshops (more info here OSF | ¡Vuela! - Open science with drones - Ciencia libre con drones). If any of you is in Chile and want to attend just let us know! They take place in a city close to Santiago, Melipilla. The days are Sunday 11 March, Sunday 25, and Sunday 8. Usually they last from 5 to 6 hours, in the afternoon.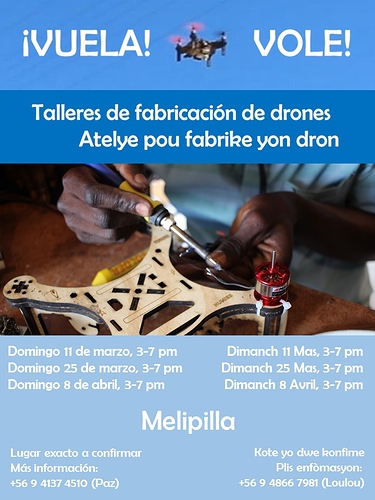 Paz