Dear GOSH community!

We are once again looking for a person or group, experienced in mechanical engineering, industrial design, or related disciplines, to work with us on making an OScH "micropipette" for automating molecular biology protocols.
The collaboration will be funded by the GOSH Collaborative Development Fund (New Project Track; Phase 2).
Please feel free to share this call with any potential applicants!
The tasks of the collaboration, requisites for applicants, and budget are outlined below.
To apply, please reply to this post or send us an email.
To learn more about the project, please visit: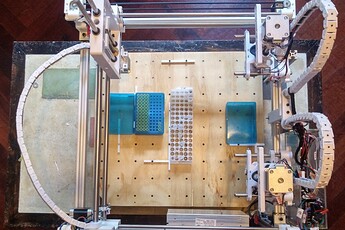 Current prototype
Cheers!
@naikymen @gcorthey and @mgamba
Tasks
Project tasks:
Adapt (or design) an open source mechanism for a set of 4 standard air-displacement laboratory micropipettes (p1000, p200, p20, p2).
Research and discuss prior art (1-2 weeks).
Model the mechanisms and define their manufacturing process (2-3 weeks).
Optimize the design for standard performance, low-cost, part availability, and automation.
Write comprehensive documentation (1 week).
Expected design practices: modularity, repairability, adaptability, and transparency.
Required documentation practices:
Lead documentation efforts relevant to design and construction, and improve existing documentation.
Help provide all files/specifications to local manufacturers required for production and assembly.
Documentation is a critical part of this open hardware project. We expect applicants to document their design choices, the manufacturing procedure, bill of materials, benefits and limitations of the mechanism, etc.
General requirements
Applicants must:
Be able to carry out the tasks using the available budget (read on for details).
Follow the GOSH code of conduct and ethos, align to the GOSH Manifesto, and comply with the terms of the collaborative development program.
Prepare progress reports for weekly meetings.
Provide all design files, procedures, and other documentation in an open format.
Be able to receive payments by:

Credit card (to organizations only, not individuals).
PayPal (individuals only).
Local wire transfer (to Argentinian accounts only, in either ARS or USD).

Be able to produce fiscally valid invoices and receipts.
Main interactions with the team:
Discuss the choice of materials and operating conditions with specialists, and the availability of parts and manufacturing methods with the team.
We expect applicants to make critical design decisions collaboratively, and lead their specific tasks actively and independently.
Attend scheduled meetings.
Location
The collaboration can be entirely remote. Applicants from all eligible countries are welcome

, as long as they are able to meet with the team, from one to several times per week.
We prefer (but do not require) applicants to be able to work on-site, at TECSCI's manufacturing facility at UNSAM, Buenos Aires
.
Required skills
We require collaborators to have:
Extensive knowledge on:

Fluid mechanics.
Physics of liquid handling (notions on pressure, surface tension, etc.).
Seal types and applications.

Proficiency in CAD design (preferably using free tools: FreeCAD, OpenSCAD, etc.).
Proficiency in preparing models and schematics for production, in at least the following manufacturing equipment: 3D printers, CNC mills, and CNC lathes.
The design will be built by our team at a prototyping facility. Applicants are expected to design for the available manufacturing processes and widely available parts.
We will appreciate (but not require):
Familiarity or experience with the project's main hardware components:

General electronics of CNC machines (control electronics, "power" electronics, homing/calibration procedures).
General mechanics and structure of CNC machines (transmission systems, factors affecting precision and structural rigidity, etc.).

Experience on interfacing with machine controllers through programming (in Python, preferably).
Budget, applications and selection procedure
The maximum budget for this collaboration is 2000 USD, that can be increased if appropriately justified (note: the amount is for working hours only, manufacturing costs and materials will be covered separately).
Candidates satisfying the criteria above are welcome to apply for the collaboration!
To apply:
Please share with us your contact information.
We will then find a time for an interview, to share further details on the tasks and hear about your experience.
Finally we will ask you to prepare:
A list of actions for each task, and the time each action will take.
A budget for materials (BOM) and manufacturing costs.
Acknowledgements
We thank the Gathering for Open Science Hardware (http://openhardware.science) and the Alfred P. Sloan Foundation (https://sloan.org) for their support.

We thank reGOSH for bringing us together, making the project possible.