Whoa!
I'm so glad to see so much work going on in OSH pipetting bots

A couple mates and I are also making one from scratch, also with It's own GUI.
It's certainly not ready, and documentation is a mess… but here are a couple pics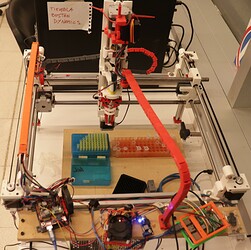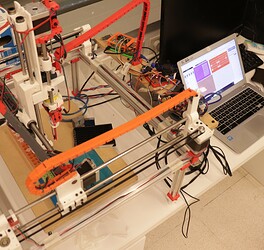 We'd be glad to join efforts with others

Making these things is really challenging IMO.
I'm interested! do you have more info?
Cheers,
Adrian
These are the references i've collected so far:
Campbell, Robert A. A., Robert W. Eifert, and Glenn C. Turner. 2014. 'Openstage: A Low-Cost Motorized Microscope Stage with Sub-Micron Positioning Accuracy'. Edited by Nikolas K. Haass. PLoS ONE 9 (2): e88977. https://doi.org/10.1371/journal.pone.0088977.

Carvalho, Matheus C., and Rachel H. Murray. 2018. 'Osmar, the Open-Source Microsyringe Autosampler'. HardwareX 3 (April): 10–38. https://doi.org/10.1016/j.ohx.2018.01.001.

Carvalho, Matheus C., Christian J. Sanders, and Ceylena Holloway. 2018. 'Auto-HPGe, an Autosampler for Gamma-Ray Spectroscopy Using High-Purity Germanium (HPGe) Detectors and Heavy Shields'. HardwareX 4 (October): e00040. https://doi.org/10.1016/j.ohx.2018.e00040.

Dettinger, Philip, Tobias Kull, Geethika Arekatla, Nouraiz Ahmed, Yang Zhang, Florin Schneiter, Arne Wehling, et al. 2021. 'Open-Source Personal Pipetting Robots with Live-Cell Incubation and Microscopy Compatibility'. Preprint. Bioengineering. https://doi.org/10.1101/2021.07.04.448641.

Katunin, Pavel, Ashley Cadby, and Anton Nikolaev. 2020. 'An Open-Source Experimental Framework for Automation of High-Throughput Cell Biology Experiments'. Preprint. Cell Biology. https://doi.org/10.1101/2020.07.02.185454.

'Making a Opentrons Compatible Liquid Handling Robot'. n.d. Making a Opentrons compatible liquid handling robot – Pipette Jockey.

Vonesch, Sibylle C, Danila Bredikhin, Nikolay Dobrev, Laura Villacorta, Rozemarijn Kleinendorst, Elisabetta Cacace, Julia Flock, et al. 2020. 'McQ – An Open-Source Multiplexed SARS-CoV-2 Quantification Platform'. Preprint. Infectious Diseases (except HIV/AIDS). https://doi.org/10.1101/2020.12.02.20242628.