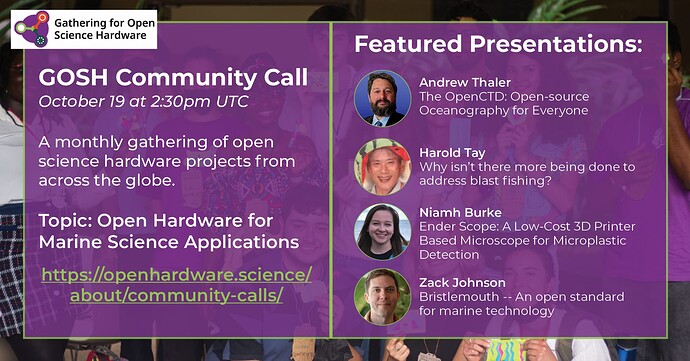 Hello GOSH Community,
The next GOSH Community Call is happening this week, on October 19 at 2:30pm UTC. The topic for the call is "Open Hardware for Marine Science Applications."
Register for the call here!
I am excited to share that we will have a great line-up of speakers at the call, with four different presentations on OH projects from across the globe! Find out more about the speakers below.
———————————————————————————————————————————
More information on the presentations
Presenter #1: Zack Johnson, Sofar Ocean Technologies
Title of Presentation: Bristlemouth – An open standard for marine technology
Description of presentation: Integration of marine systems is complex and expensive. This hinders scalability and stifles innovation. Bristlemouth is a new open standard delivering plug-and-play hardware interfaces for marine applications. Using modern networking standards and a simple, waterproof physical layer, Bristlemouth will lower the barrier to entry for anyone working in or around the marine environment. Learn more about Bristlemouth and join us to create a new era of ocean innovation.
Presenter #2: Harold Tay
Title of Presentation: Why isn't there more being done to address blast fishing?
Description of presentation: Blast fishing is the illegal and destructive practice of throwing bombs into shallow water to kill fish, which are then collected and sold. This practice is common in the Philippines, Indonesia, Malaysia, and some places in Africa. The practice damages coral reefs which not only affects fishery outputs but may also increase the devastation of tsunamis. It would appear that the hardware solution to detecting these underwater explosions is straightforward, so why is it not more common? Here we outline a possible solution and discuss hardware trial results.
Presenter #3: Niamh Burke, UCD School of Medicine, University College Dublin, Ireland
Title of Presentation: Ender Scope: A Low-Cost 3D Printer Based Microscope for Microplastic Detection
Description of presentation: If we really want to know more about how much microplastic pollution is in the sea, we need globally accessible and scalable methods to measure microplastics. For this reason, we have designed the EnderScope. The EnderScope is a low-cost, open-source and easy to build microscope designed for automatic scanning of filtered seawater samples to detect microplastics.
Presenter #4: Andrew Thaler, Oceanography for Everyone/Blackbeard Biologic: Science and Environmental Advisors
Title of Presentation: The OpenCTD: Open-source Oceanography for Everyone
Description of presentation: The ocean belongs to everyone. The tools to study the ocean should be accessible to anyone with the curiosity and motivation to pursue that inquiry. Chief among these tools is the workhorse of oceanography, the CTD, an instrument that measures salinity, temperature, and depth. By these characteristics, scientists can begin to unlock ocean patterns hidden beneath the sea's surface. Unfortunately, commercial CTDs are expensive. The most affordable models cost several thousand dollars. For near-shore oceanographic research on the relatively shallow continental shelf, this cost can be prohibitive. This effectively excludes formal researchers from low and middle income countries, and small island states.
The OpenCTD is a low-cost, open-source CTD designed for budget-restricted scientists, educators, and researchers working in nearshore coastal ecosystems. In these waterways, entire research projects can be conducted for less than the cost of a commercial CTD. OpenCTD was developed by a core team of marine ecologists in collaboration with a community of scientists, engineers, makers, and conservation practitioners from around the world. It is assembled from components commonly available at large hardware stores or through major online retailers. An Arduino-based microcontroller controls an array of sensors sealed within a PVC pipe. Power is provided by a standard 3.7V lithium polymer battery and data are stored in a tab-delimited text file accessed via SD card. All OpenCTD software is released open source with no restrictions on use.
———————————————————————————————————————————
What are GOSH Community Calls?
The Gathering for Open Science Hardware (GOSH) Community convenes open science hardware practitioners from across the globe. GOSH Community Calls are a great way to learn more about open science hardware projects in the community. Each call consists of several short (10-15) presentations with time for discussion. Find out more at openhardware.science/about/community-calls/.
That's all for now, I hope to see some of you at the call!

-Bri