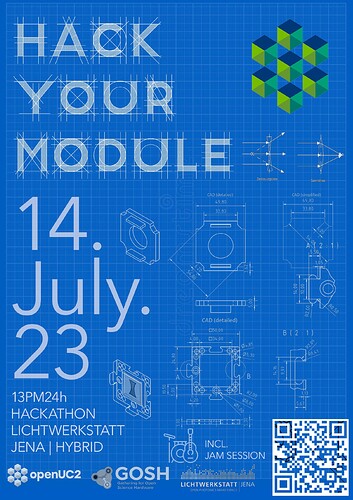 Thanks to funding from GOSH, we're hosting an epic (yep!) hackathon in Jena, Germany on July 14th-15th. Let's bring community-suggested ideas to life, create openUC2-based modules, setups, and more! You can apply now and be part of the future of optics. #
APPLY here: https://lnkd.in/efBg9CfT
Nominate your module challenge here: https://lnkd.in/eJvN3Gz7
More information here: openUC2@GOSH Hackathon - openUC2

Enjoy an intense ~24-hour hacking experience at the "Lichtwerkstatt." We provide all the resources, from parts and cubes to pizza and drinks. Let's work hard, document our progress, and embrace openness together.

Calling all musicians! Join our JAM session and bring your instruments for a fun-filled evening of music and creativity. Don't miss the DJ sessions afterwards!



[#MusicLovers]

Traveling from afar? We've got you covered! Explore Jena's cozy B&B for comfortable accommodation during the hackathon.

Save the date: July 14th-15th, 2023. Mark your calendars and get ready for an unforgettable experience. Limited spots are available, so apply now!

Can't be physically present? No worries! Participate actively or passively online. Tune in to the live-streamed sessions and join the community remotely.

Submit your innovative "hack my module" ideas involving photons and stand a chance to see them come to life during the hackathon. Let the community vote for the best entries!


For more information and to apply, visit https://lnkd.in/etmJNayV. Join us and let's revolutionize open optics together!
Feel free to reach out to us via GitHub or hello@openuc2.com if you have any questions. We can't wait to see you at the UC2 Open Optics Hackathon!



Question to the community
What would you like to see inside the modular building block? Our mission: Be the Arduino for optics! And yes, we can!