Hi all, how's it going?
Long time ago, back in 2018 (!!) the GOSH Roadmap was published, and among others, it had recommendations for setting a collaborative research agenda on open hardware: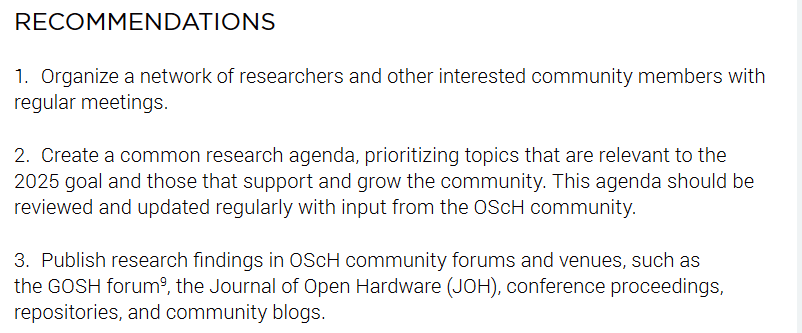 This is something I'm interested in moving forward, so I created a call for meta-researchers on open hardware.
All the info about it is in the call, but in brief, the idea is to provide a much-needed forum for discussing the key aspects of open hardware as a field of study.
So, is it for you?
If you're doing research on socioeconomic aspects of open hardware/open design practice, you're invited to join us,
It's not only for researchers in academia, if you're doing research in a non-profit, or you are community-based, or maybe in a company, you're invited to join us,
If you're in doubt about joining, just ask here or drop me an email: ja2153@bath.ac.uk
The idea is to have a virtual call monthly, though frequency may change after the 1st call, depending on what we decide.
Joining is super easy, just subscribe to the mailing list. If you can't attend meetings but you still want to join the discussion, subscribe as I'll be sending the minutes there too.
Thank you to the awesome people who already joined!
That's all, stay safe, virtual hugs <3