Halfway through our month-long conference,we got struck by yet another hardship, Covid. It appears to be the latest variant that is ridiculously transmissible, and managed to get about 10 people at the conference (even though almost everything we do is entirely outside!). The Dinacon team still managed to work together though, coming up with a set of evolving protocols, isolating those affected and nearby, and effectively locking down the conference into individual, masked up pods, working super spread out. After a week without further infections, we are hoping to be turning the corner, but there is a giant festival in Batticaloa, and the infections have been rising throughout Sri Lanka, so we are still being super cautious.
Despite this, the Dinasaurs have been still tinkering away on all kinds of projects between nature and technology! Check them all out in the latest newsletter!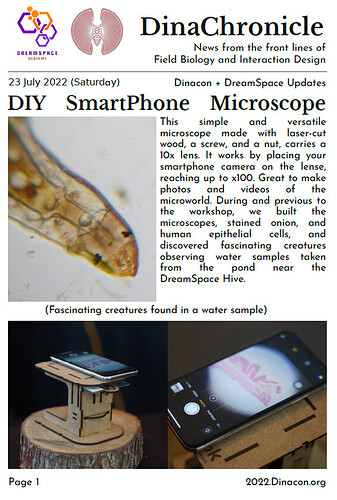 We got DIY smartphone Microscopes,
Cyber hands made from leaves, LoraWAN farming, Cooking with biochemistry, floating makerspace construction, and more upcycling of plastic bottles!