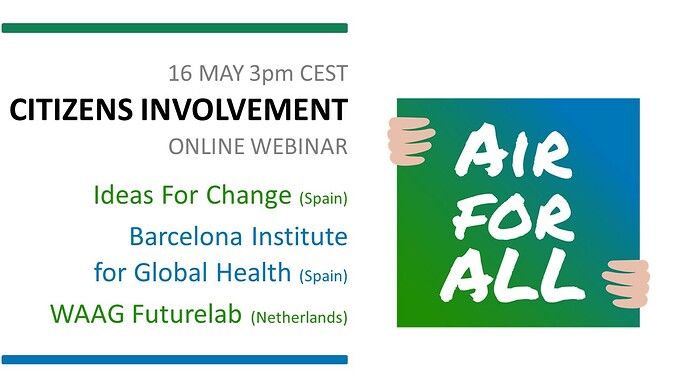 Invitation:
Join us 16 May for the Air For All Citizens Involvement Webinar, to get insights & exchange about citizen involvement methods for air quality monitoring, data collection, policy intervention & societal impact. Are you working on related projects and Open-Source Hardware? We would be keen to learn more about it from you.

See Agenda & Free Registration:
You will hear from & can exchange with:
Ideas for Change
Waag Futurelab
Barcelona Institute for Global Health (ISGlobal)
Facilitation:
Ideas For Change
About:
Air For All is jointly run by the Air Quality Organisation of Västmanland County, Ideas for Change and Proofing Future: Bridging People + Ideas
Air For All is an Erasmus+ cofunded project that will evolve a knowledge toolkit for [1] helping citizens to better understand the effects of air pollution, emissions and climate change, and for [2] helping cities to leverage civic participation for air quality data collection. AirForAll will also [3] launch a digital, freely accessible platform for knowledge transfer and capacity building on EU and international level.