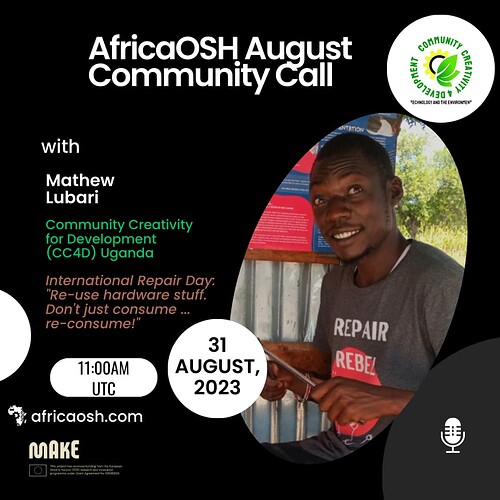 This month's community call will feature Mathew Lubari, from Community Creativity for Development (CC4D) in Uganda on 31st August, 2023 at 11:00 am UTC.
Mathew Lubari is a Co-Founder & Executive Director of Community Creativity for Development (CC4D). He is a South Sudanese, self-driven and thought repairer, and activist, maker, ICT mentor, and advocate for Open-Technology.
He is a Fellow in the Maintainers Movement Fellowship Program for 2023, a lead expert in the #ASKnet network, and a member of the Global Innovation Gathering (GIG) Network.
Mathew also helps teach and mentor young people how to use ICT for livelihood and self-reliance including the use of open tech to promote peace and peaceful coexistence among conflict-affected communities
Mathew will talk about open hardware and the repair culture. He will delve into the International Repair Day (IRD), which is an annual event dedicated to promoting the importance of repair and its positive impact on the environment, economy, and society as a whole. It is a day when people, organizations, and communities come together to raise awareness about the benefits of repairing products instead of discarding them and buying new ones.
Register here: AfricaOSH Community Call - August 2023 / 11:00 AM UTC