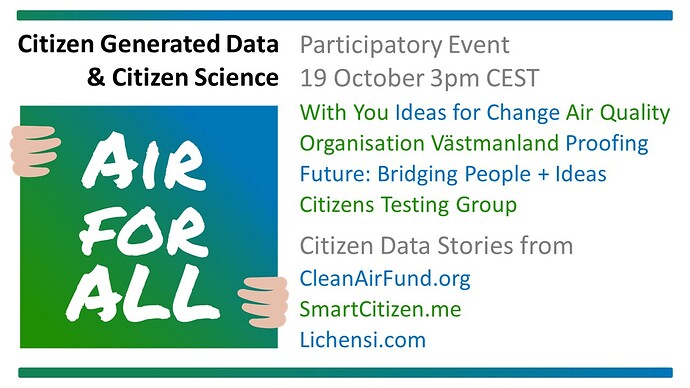 AIR FOR ALL*
Participatory Event on Citizen Generated Data & Citizen Science
19 October 2023, start 3:00pm CEST (end 4:30pm CEST)
AGENDA
3:00 - 3:05 Introduction _ by Ideas for Change
3:05 - 3:10 Check-In & Ice-Breaker _ with Ideas for Change
3:10 - 3:40 Round Table on Citizen Data Stories _ guided by Proofing Future
10min presentations about Citizen Data Stories with Q&A:
presentation by Clean Air Fund
presentation by Lichen Social Innovation
presentation by Smart Citizen/Making Sense
3:40 - 4:20 Participatory Session on Citizen Data _ guided by Ideas for Change
Activity with all meeting attendees to "play" with official and citizen generated data about air quality. - How can citizen generated data change the game and add value to the existing data? - What use cases, what roles for citizen science and what potential of participatory projects about climate challenges may we imagine together?
4:20 - 4:25 Conclusion on how to interpret data _ by Ideas for Change
4:25 - 4:30 Next Steps _ by Ideas for Change
*Background:
Air for All is an Erasmus+ cofunded project that will evolve a knowledge toolkit for [1] helping citizens to better understand the effects of air pollution, emissions and climate change, and for [2] helping cities to leverage civic participation for air quality data collection. AirForAll will also [3] launch a digital, freely accessible platform for knowledge transfer and capacity building on EU and international level.
Air for All is conducted by the Air Quality Organisation Västmanland County (Sweden), Ideas for Change (Spain) and Proofing Future Europe (Belgium / Germany).