Thanks! I just added my availability under the user hpy2.
Let's do it Tuesday, 17th, 13:00 UTC. please reserve 2-3 hours for the introduction.
We'll meet tomorrow! Tuesday, 17th August, 13:00 UTC,
first hang-out and explore some existing maps, starting with http://island.hackteria.org
We'll discuss experiences on map design, scale, living maps, user edits, easter eggs and more
Shift to BigBlueButton for more optios of screensharing and exploring different maps
How to design your own map
How to host your map on github
Where to "play" the map
How to make creative "tiles" and graphics
Feedback and ideas how to go forward
Preparation needed:
Other nice maps: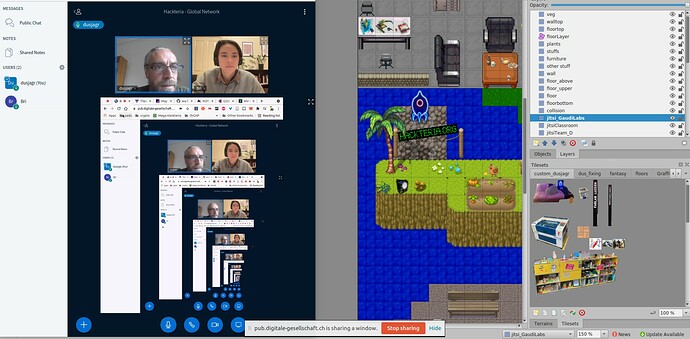 Let's set up a design team! We could use some artists, pixel-nerds, painters and game-designers.
And then in a 2nd round it's all of YOU to create easy visualized web-content that can be embedded in the map representing your projects, communities, visions.
It was great to hang out and explore workadventu.re yesterday, thanks for organizing @dusjagr! Here are some of the notes I captured for those interested:
Workadventu.re has a lot of cool features we could use on a map, like setting up areas for jitsi meetings (and these jitsi meetings can be accessible to those who aren't in the workadventu.re space either, by sharing the jitsi link with them seperately). Could set up areas for livestreaming music, livestreaming video, create and can create virtual poster boards for people to share projects and announcements. We can also integrate Google Docs, Wiki pages, and more!

Space is the most important factor when making a map, we would want to avoid making a map that is too big.

Maps can serve as a place for interaction between community members, but also a space for showcasing projects and initiatives.

Can access workadventu.re maps by mobile phone, but it seems to work better on computers. This is an important accessibility issue to consider when making a map!

Would be ideal to get a small group of community members together who are interested in designing a map for GOSH.

Would need a motivation for making a map, like a big GOSH event.

Maps are self-hosted, so if a map is being designed, at some point we would need to determine where it would be hosted.